Hello and welcome to Praxis & More® by Vesna Braun – your expert partner for dental prophylaxis and dental hygiene
As a dental hygienist for many years, I am not only familiar with the ins and outs of working life in a dental office, I have also worked successfully with dentists and their teams for over 15 years to take them to the next level of high-quality dental prophylaxis. Having a coordinated, optimized dental hygiene program is a prerequisite for dental offices to successfully apply new scientific insights, approaches and innovations to their work.
I have the privilege of being able to look at dental offices from various angles:?- as a dental hygienist and consultant for a number of dental offices, group practices and clinics?- as someone who runs my own company?- as a service provider to the dental industry?- as a speaker at conventions, seminars and training courses?- and as an author, lecturer and member of examination boards.?My knowledge of the industry and passion for our shared profession can help you succeed!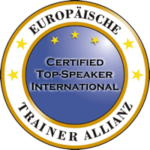 The Europäische Trainerallianz (European Trainer Alliance) awards the title of Certified Top Speaker exclusively to members who have a proven track record of speaking in front of audiences of more than 500 participants as a paid keynote speaker.