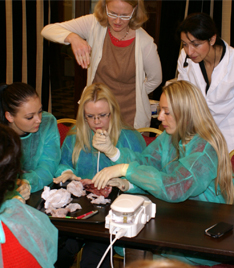 Dental Depots, Associations
Looking for a speaker who knows their craft? For dentists, dental hygienists or a whole team? Just a speech, or including a workshop? Half a day, a full day, or even multiple days? Just ask!
Once the time available and the target group have been defined, we can discuss which topics are currently most important to dentists. I can create the course announcement if desired and also provide certificates, handouts and feedback forms.
I can also put you in contact with sponsoring partners if required.
"As an organizer, your seminars are always a pleasure for us to prepare and stage, since the feedback from participants is always positive. The seminar on professional tooth cleaning in particular has become a regular event. Your handouts for participants are exemplary. Your seminars are unique, not least because of the way you communicate with the staff and their bosses. I look forward to many more events with you."
Hans-Joachim Sartor, Ad. & Wagner GmbH & Co. KG Stuttgart, Germany, 11/04/2003