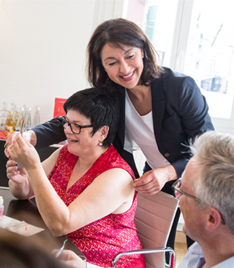 Dental Offices – In-house seminars
If you want to update your dental office's processes to include new knowledge, reflect the latest scientific insights or respond to regulatory changes, having just one person trained accordingly in the hope that they will pass on what they've learned to their colleagues often isn't enough. On the contrary: evidence suggests that to establish a learning organization every member of its team has to be involved in the learning process – so that they all reach the same level of knowledge and can break new ground together. This is the only effective way to really change structures or procedures in the long term. In-house training lasting one or more days, depending on the scope, is a useful way of doing this.
The seminar will of course be tailored to your individual wishes and ideas, especially in terms of the relative emphasis you want to place on theoretical and practical aspects.
The benefits of in-house seminars are readily apparent:
Training can be tailored to the unique needs of your office and team
Training content can be added directly to your dental office's service portfolio
In the dental office environment, participants are freer to share confidential information, so they can follow each other's contributions more easily
No extra travel time and expenses for attendees
Your team can choose a convenient date for the training
In-house training fosters loyalty to your practice and helps your team solve problems together
The dental office/team selects the exact training topic needed to optimize internal procedures
Select from the following in-house seminar topics:
• Prophylaxis for infants, children and adolescents
• Prophylaxis for orthodontic patients (fixed/removable appliances)
• Modern bleaching
• Professional cleaning of teeth (prophylaxis)
• Prophylactic treatment plans for tooth preservation and supportive periodontal treatment
• Prophylaxis for implant patients
• Prophylaxis for high-risk patients
• Marketing strategies for dental hygienists
• Halitosis
• Scaling/instruments
• Sharpening of periodontal instruments
• or others upon request
Want to find out more about the course contents or curriculum?
As these are updated continuously, please request the current version via my contact form.
In-house training
Customized in-house training or coaching can rightly be considered the crème de la crème of all training options. In my experience, the demand for this type of tailor-made training has increased in recent years. This is hardly surprising, as this type of training cannot get any more personalized: if you wish, I will draw up a tailored curriculum and determine the training needs in close partnership with you. I can also include the latest scientific insights in the training plan, and coach both individuals and teams to improve their routine activities. Each and every movement is not just taught in theory – participants are trained in them practically with the tools present in your dental office, so they can add the new skills they have learned to their existing workflows the very next day. Every step of the way – from welcoming patients to treating them and even invoicing them – is conveyed clearly, in a practical context and in detail.
The benefits of in-house training/coaching are readily apparent:
Training can be tailored to the unique needs of your office and team (so that none of your staff will be either overwhelmed or insufficiently challenged)
The specific conditions of your rooms, equipment, instruments, software etc. will be considered in the training, which helps in applying new skills effectively and efficiently.
Target groups (patients) can be asked to visit to take part in practical exercises
Training content can be added directly to your dental office's service portfolio
In the dental office environment, participants are freer to share confidential information, so they can follow each other's contributions more easily
Participants can be closely supervised, ensuring quality control
Your team can choose a convenient date for the training
In-house training fosters loyalty to your practice and helps your team solve problems together
No extra travel time and expenses for attendees
The dental office/team selects the exact training topic needed to optimize internal procedures
My analysis will help to pinpoint any gaps in your dental office procedures as well as any inconsistencies or negative trends/habits in your dental office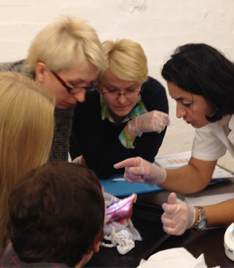 Select from the following in-house training/coaching topics:
• Prophylaxis for infants, children and adolescents
• Prophylaxis for orthodontic patients (fixed/removable appliances)
• Modern bleaching
• Professional cleaning of teeth (prophylaxis)
• Prophylactic treatment plans for tooth preservation and supportive periodontal treatment
• Prophylaxis for implant patients
• Prophylaxis for high-risk patients
• Modern communication skills
• Halitosis
• Scaling/instruments (hand-piece/manual)
• Sharpening of periodontal instruments
• or others upon request